Allen Ozark was born in Southwest Atlanta, GA, USA, in 1976.  Although he enjoys traveling the world, Atlanta is still his home and the birthplace of all his works.  His passion for reading and writing sparked early on while attending Colonial Hills Christian School in East Point, Georgia with his submission to a publication titled, "The Rambler".  Ozark's original short story about why giraffes' necks are so long marked the beginning of his literary career.
Ozark studied science and mathematics at Benjamin E. Mays High School's Academy in Atlanta, Georgia, graduating in 1994.  He is an artist at heart and has had some of his drawings on exhibit at the Woodruff Arts Center in Atlanta, GA.  He studied Business and Information Systems at Reinhardt University in Waleska, Georgia, and went on to write for various journals and publications until 2002 when he began his first novel, "Containment".  This book was the third of a five book series, "Primal Deity" a thriller that follows the adventures of fictional character FBI Agent Alex Southerland.  In 2010, FF Books accepted the first novel in the series, "The Chaos Engine" for publication.  Two years later, FF Books published book two in the series, "Crisis Management," and in 2015, he put the finishing touches on the very first novel he wrote and book three in the Primal Deity series titled, "Containment."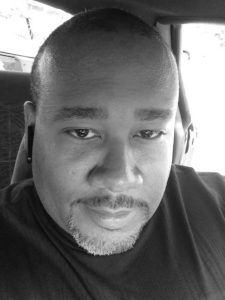 Inspired by award winning authors including, but not limited to James Patterson and Sue Grafton, Ozark continues writing stories full of unique characters, who reach out from the depths of their despair and grab hold of readers without ever letting go.  He primarily writes fiction thrillers, but has titles in lighter genres as well, including science fiction and romantic comedy.  Allen loves to read and write, paint, and draw. He is an automotive enthusiast, and continues to consult for security firms, corporations and government agencies.